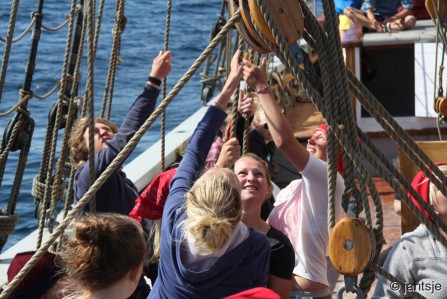 A lot of the trainees who go sailing for the first time wonder what it's like on board. And who better to answer that question than the people who were in this position a few years back? We've decided to ask more experienced Windseekers for advice. The question posted on Facebook was:
What advice would you give to someone going on their first Tall Ship journey?
We chose several from many useful, funny and interesting comments, and we put them together for your convenience. Here's what you need to know before you go sailing for the first time:
BE PREPARED
Moisturiser!! Never forget moisturiser
–  implores Kika.
The truth is, smart packing will make your life much easier once you're on board, as some other trainees pointed out as well.
We are here to help you with this point. Check the Kitlist and pack everything you need – but not much more! Eva's little video will walk you through it. Get your documents in order (check whether you need visas, passport, special insurance, etc.).
If you like to be super-prepared feel free to browse our Life on Board page for inspiration, or get to know the most important nautical terms. When in doubt, ask other Windseekers on our Facebook page.
PRACTICAL ADVICE

Santeri:
Make sure that you can handle seasickness when you go to a boat.

Not everybody gets sea sick and it usually doesn't last longer than a day. Still, you can do your best to prevent getting nauseous by taking medication before you get any symptoms. Eat normally to keep your strength and drink a lot of water. If you're concerned about getting sick, read our article to learn more tricks to prevent it.
Don:
don't look down
…
I should add that although I have a love of tall ships and sail in general I have never been aloft .. I hate heights!
Climb aloft… if you want to! It's fun to challenge yourself, but you are the one who knows how far you can push. We recommend trying at least once, but you can always refuse, or even change your mind halfway through climbing. There is no shame in that. If you do make it to the top, you will be rewarded with amazing views and a sense of deep satisfaction.
Remember to nap when you can and say yes to everything! – Tully
Rest! While in harbours there will likely be time to party, at sea the watch system demands a lot from your body. Take naps, don't stay up too late, and definitely don't make noise while others are sleeping nearby.
BE A GOOD MATE

Unless you're single-handedly sailing around the world (in which case: kudos to you!), sailing is a team effort. There's no better place to find out about this than a Tall Ship, where most actions demand collaborative effort. Not only do you set the sails together, but you also live very closely with many people in a relatively… cozy… space. There's usually a place to be alone when you feel like it, but when you're with others – enjoy their company! It's very likely you will meet people from different places and walks of life, people you would otherwise have never met – and you will have sailing in common.
Be yourself and enjoy it! Adam's advice is very wise:
Don't be afraid to be yourself. Make jokes, sing, dance and play games. You'll get to know everyone a lot faster and don't worry so much about not knowing enough you'll learn as you go and have fun.
Be social, for example…
Learn a couple of shanties and how to tell a couple of jokes – Mike
Svetlana says:
Take lots of chocolates and you will be the most popular person!
If you're sailing in an international group, then some treats typical from your country will be a really nice touch. If you'd rather travel lightly, then sharing your culture in other ways will be just as appreciated: sing a song, tell a legend or translate weird expressions which only make sense in your language!
Be patient: with others, and with yourself. People on your journey might be from different countries and speak different levels of English. Don't worry if your (or others') language skills are not great, soon you'll be communicating much more smoothly.
ENJOY!
Just don't worry and have fun! – Karel
Relax and let yourself go, you'll love it! – Luís
Going on a Tall Ship for the first time is scary, and there's no denying that! However, it's a really great experience, which gives you a lot of satisfaction, self-confidence, new friends and bragging rights among the landlubbers!
Soon you will have tons of inside jokes and funny stories to tell, like…
Pete: Don't wear roller skates – seems like a legit advice!
AND FINALLY…
Andrew gives a great advice:
"Hurry up and book".
Well… go ahead!
Got more questions? Don't know which journey to choose?
Contact us at info@windseeker.org