You're a young, active person who takes sustainability to heart. You refuse plastic bags in a store, and carry your own reusable water bottle. You recycle what you can, and prefer biking or public transport to a car. You do what you can for the environment – but how can you do more?
Help us create a movement. Join a Sustainable Sailing trip. Have an adventure of a lifetime. Steer a massive Tall Ship all on your own, climb the masts for breathtaking views, feel the wind in your hair while you trim the sails and watch the starry sky without light pollution. Find the freedom in Sailing.
Meet your peers from all over Europe. Exchange your experiences, the best sustainable solutions of your countries. Share your national food and talk about your culture. Find the similarities and celebrate differences. Earn a YouthPass Certificate. Be a conscious European citizen.
Practice sustainable living on board: travel using the green power of the wind, take short showers to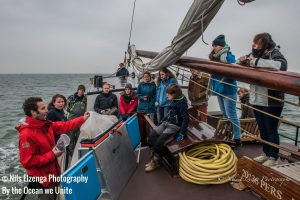 conserve the limited fresh water supply, sort the trash to save storage space. Study the oceans and the biggest danger to their ecosystems: plastic. Find out what is micro plastic and why is it especially dangerous for the ocean. Learn from professional marine biologists on board, sent by an experienced environmental organization By the Ocean we Unite. Use specialist equipment to take water samples and analyze them. Brainstorm the solutions to our collective plastic problem. Learn about plastic pollution of the oceans.
Study and apply the best practices. Visit companies with successful environmental policies in place. Sail to locations which use 100% sustainable energy sources. Join beach clean-ups in Sweden and pick up the trash from Amsterdam canals. Become an activist.
Help us create a movement. Fight against plastic pollution. Save the oceans. Learn.
Join the Windseeker Sustainable Sailing Journeys.
Life on Board
Journeys
Exploring Coastal Waters: Sail the Morgenster in the Tall Ships Races and discover the breathtaking coast of Norway. Learn more.
Plastic – an Issue Without Borders: Join a vegetarian voyage on board Vega Gamleby in Sweden. Learn more.
Looking for Sustainable Horizons: Sail from the Hague to London and back to Amsterdam on board the Gulden Leeuw. Learn more.
Danish Circles: Step on board the Wylde Swan, learn about circular economy and visit the island known for getting 100% of its electricity from wind power and biomass. Learn more.
Funding
The Windseeker Dinghy Programme is an online training course which will help you get on board. Now you can join a Sailing Adventure even with very limited funds.

The Sustinable Sailing Journeys are furthermore co-founded by the Erasmus+ Programme of the European Union. Thanks to that we were able to significantly lower the costs of the journeys for participants. You can also expect reimbursement of some of the travel costs – details inside the journey descriptions.
Partners
Aiming to provide the best possible learning experience Windseeker has joined together with international partners. This way we can create a comprehensive and high quality programme, with each part led and/or supported by professionals.