Get Nautical
Learn the ropes of sailing a Tall Ship and challenge your comfort zone. Navigate, trim the sails, communicate, deal with ever changing weather conditions, work together in shifts throughout the day - and night. Get nautical.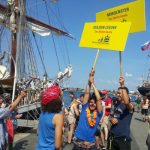 Go International
Know no borders. Be part of a crew of trainees from all over the world. Mix with other cultures and get your funding under way with the help of the European Union. So jump aboard, go international and challenge your world.
Develop Yourself
Sail Training is about who you can be. Take charge and redefine your character. Go back to basics and get to know your limitations. Step into a world of new experiences, and take them with you to explore new shores. Be the new you.