From 22 June to 25 June 2017 is Sail Den Helder 2017
Sail Den Helder is a big Tall Ships event in the North Holland. It was first held in 1993. Since then, the port was home to the big Tall Ships event 3 more times, most spectacularly in 2013 when it coincided with the celebration of the 525 anniversary of the Royal Navy. The 5th edition in June 2017 will happen in conjunction with the Navy Days – the open days of Royal Navy.
Sail Den Helder will bring back the Golden Age of the Netherlands' maritime history – if only for 3 days. A fleet of large and smaller vessels will visit the city with numerous international trainees on board. They will take part in parades, parties, shows, exhibitions and many other cultural events open to the crews and the general public. If you're in the Netherlands in those days you can't miss it!
Combine the event with Tall Ships sailing experience by booking one of the journeys starting in Den Helder
Come to Sail Den Helder and enjoy the festival atmosphere! Meet sailors from different countries and visit the Ships in port. After the festival embarok on one of the Ships to sail across the North Sea in a Sail Training adv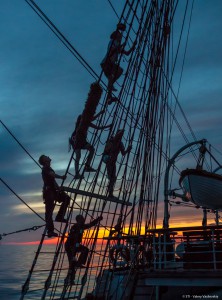 enture!
Christian Radich, Den Helder – Stavanger, 24 – 30 June 2017
Statsraad Lehmkuhl, Den Helder – Bergen, 25 – 28 June 2017
Or visit two sailing festivals instead of one by sailing from Den Helder to Halmstad, where the 61st Tall Ships Races will be starting:
Morgenster, Den Helder – Halmstad, 24 June – 2 July 2017
Gallant, Den Helder – Halmstad, 24 June – 2 July 2017
Royal Helena, Den Helder – Halmstad, 24 June – 2 July 2017
You can read more about Sail Den Helder on the official website of the event here.