Oceancrossing
Oceancrossing. The Golden Grail of sailing. The adventure of a lifetime - now within your reach!
Set course for the faraway horizon and sail in the direction of nothingness. See nothing but blue: sea and sky, for days at a time, only broken by amazing sunrises and sunsets. Experience the power of nature and the greatness of the Earth. Contemplate your place in this vast world.
Get philosophical. Find your freedom and solitude on a Ship full of people. Leave your worries behind and don't bother with your boss - there's no cell phone reception anyway. Find your limits. Experience sailing in different conditions and learn the rhythm of the Ship. Test your endurance. Maybe you'll have to watch out for icebergs? Or maybe it's so hot you will go for a swim in the middle of the ocean. Meet amazing creatures along your way: dolphins, or whales, or maybe a lost bird who will find a shelter on your Ship for a few hours, before taking off in its own direction.
Finally you see the land! Find yourself on a whole different continent, ready to meet other cultures and share their customs. Stay a few days longer and wave your Ship goodbye. Is it over already? You can cross it off your bucket list. Except by now you've caught the bug. You're probably already planning your next journey. Fair warning: sailing is addictive.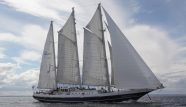 Atlantic crossing from the Caribbean to Azores. Not in the mood for a long, cold winter? Then join the Eendracht for this won...
Oceancrossing
Sail Training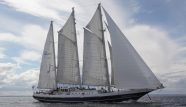 Alternative holidays. Cross the Altlantic from Cape Verde to South America for Christmas and New Year! Crossing the ocean on ...
Oceancrossing
Sail Training