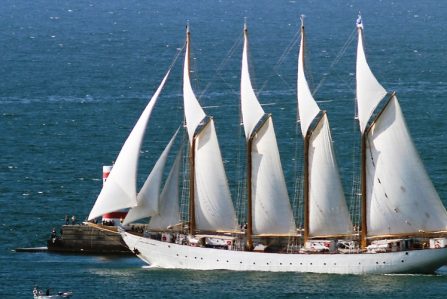 14.07.18. by a Trainee
Sailed on the Santa Maria Manuela at 15:00 hours. Bright sunshine and thousands of excited people lining the jetties, docks, hills, homes and piers, waving enthusiastically. On board, all the crew and trainees waved at the onlookers – it was very exciting. Once we ventured out to the open sea, the ships moved into position for the start of the race.
15.07.18. by Bronson Teles
Today has been nothing but an amazing experience filled with the best memories to live with. An early rise to the day beginning at 12 am was a beautiful start. My shift began at 12 am and ended at 4 am, including four shifts that I had to complete: navigation, bow watch, midship watch, and steering the ship. All shifts went just as planned and I learned so much from each and every one of them. After I completed my four shifts I helped put up a sail and then went to rest.
I then went and ate a beautiful breakfast and started my morning by relaxing on the boat and listening to music with my fellow trainees. A beautiful day was in our presence while the views of the ocean and sun reflecting water were mesmerizing to all. However, although the weather was gorgeous, the winds did not pick up during the early afternoon. There were pros/cons to this situation. Pros: we had the most amazing opportunity to jump into freezing crystal clear water. Cons: The boat did not move as planned.
Eventually the wind picked up and we were off again. I had my next shift from 4 pm to 8 pm, which included: navigation, steering and helping with dinner. All shifts have been such an incredible experience and I continue to learn so much about the sailing life as well as different culture on ship. My day is only getting better as I am about to look at stars and sleep outside on the ship.
Today has been a perfect day on the Santa Maria Manuela and I look forward to what is in the future.
16.07.18. by Shannon Teles
To my sailing mates!
Today is day 3 on our adventure sailing the tall ships! We are currently in 7th place in our race, this is super good because we are not a racing ship! I have my hopes up high that we will win!! Today has been a beautiful day with heaps of wind, the sun is shining and our crew is working harder and harder every day. I cannot wait to see what place we get in.
Today many of the trainees were up in the ropes working the sails, it was such a sight to see! The bonds with my crew grow so much when working together, especially when high in the sky together!
Anyways, just and update <3 Have a great day 🙂