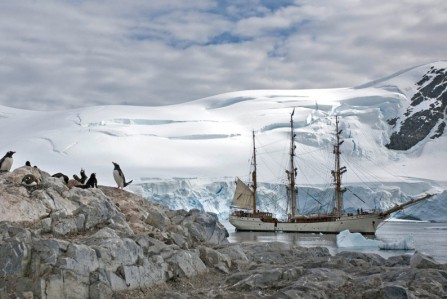 We are all adventurers… each of us in our own way. For some… it's facing the sea-sickness of rolling swells and books that move across the table on their own. Or climbing the mast all the way to the top, breathing heavy and heart racing. Maybe it's walking close to a sea elephant whose smelly burps and groans penetrate the silence of the Antarctic air.
For the Captain it may be taking a different route, one where there are no charts with the threat of shallow waters always there. For some crew it's the responsibility of teaching us old dogs new tricks of bracing the yards, heaving on the sheets and coiling hundreds of lines. For others it's following the great explorers who persevered before us, surviving crazy odds of years trapped on the ice.
For me, the adventures unfold daily. Some of them are known (like making it to the top of the mast and shouting into the wind), and some sneak up on me unexpectedly, like the missing of my family waiting for me back home.
Inside of each is a story unfolding, a personal path being sketched on the map of our lives.  But what is the main story that ties each of us to this journey, that has led our individual paths to meet on this boat, at this specific time? What drives each of us to be here? What ignited flame is burning deep within us that this journey kindles? As I said, we are all adventurers… each in our own way.