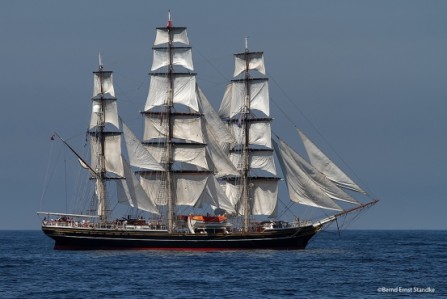 Right now the last cruise of this winter and also my last cruise as captain on board the Clipper Stad Amsterdam is well underway. The  British Virgin Islands is the sailing area, as  already mentioned in the former log article. The highlight of this cruise from a technical point of view definitely is the passage through Soper's Hole, a strait that runs in between a pair of islands.
Soper's Hole is regarded the first settlement of the British Virgin Islands and was initiated by Joost van Dijk on behalf of the Dutch West India Company. In the 17th century the Company was interested in this part of the Virgin Islands for trading purposes because it was strategically located between New Amsterdam on the one hand and Dutch plantation in South America (Surinam) on the other. Apparently, the cotton and tobacco plantations on the islands did not result in enough wealth for Van Dijk and therefore he made good use out of his letters of marque. The Spaniards did not agree and decided to get Van Dijk from his hiding place and to destroy the settlement. The Dutchman was forced to flee to an island north of where he practiced his hijacking. That island still bears the name "Jost Van Dyke", although the spelling has been adapted somewhat by the English rulers from later times.
So we seize every opportunity to go through under full sail with the tricolour proudly in top. It feels like it is still ours for a part.