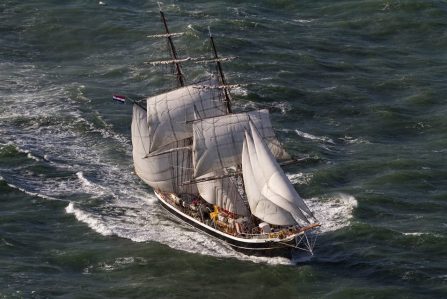 Our final day in the harbour was marked by a delightfully late breakfast, allowing everybody a proper recovery from the festivities of the prior day. The day was marked by the first happy hour of the journey, where every watch was appointed one of different tasks on board. In contrary to popular belief, shipboard happy hour does not constitute free drinks, but consists of tasks designed to increase overall happiness on board the ship. The white watch was lucky enough to be assigned to cleaning the galley. This ranged from doing dishes to mopping the floor and cleaning the countertops. An altogether pleasant first happy hour. After happy hour it was time to say goodbye to the splendid and  beautiful city of Belfast, capital of Northern Ireland.  We hoisted the gangway on board and secured all loose items to be seaworthy. As soon as this all was done it was time to cast the moorings. The engine spluttered to life to move us out of our berth. As soon as we cleared the quayside under loud cheering from the overjoyed crowds, we hoisted sails and began our trip to the starting point of the race.
After having put on the sails, the French contingent of the crew gave a presentation on their native country, explaining about its history, culinary delights and cultural riches. Part of their presentation was also a tasting session of local specialities, with a delicious ham and a smashing "fromage".
Directly following the French presentation time it was time to present the first found items which turned out to not all be quite lost. Among the prized items were a cell phone, shoes, socks turned to chemical waste (unsold as of yet, claim yours now!) and a lovely leaf crown. Prices went up from a dance to a song to sometimes even as much as two songs or a rain dance!
The auction was cut short by the PA system announcing an evacuation drill. We hurried ourselves upon deckside and were handed the life jackets with their instructions to salvation. After being snugly fit to our life jackets, it was time to resume normal duties. With our shift starting only at midnight, this gave us some well-deserved time for R&R (rest and relaxation). Our first actual watch started off at midnight and to be quite uneventful. We ended our watch at 4 in the morning with a game of "true or false". The game was very fun and tricky, with people endeavouring to uncover which of the 3 facts presented by their watch mates was a deception. We found out that Arnoud is not a champion in gymnastics but that Max is a champion in cricket. However, he was never selected to join an international match. As for the rest of our watch mates, we hope they will uncover their secrets soon…