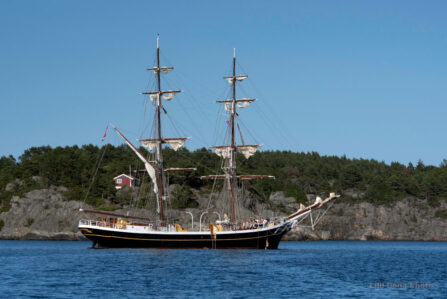 We present to you: the logbook for the Youth Exchange 'Exploring Coastal Waters'. This is a written account by participants and mentors Sija & Meri, who were in charge of this matter. It tells the story of our time on board this summer. There are logbook entries by trainees and notes by mentors explaining a bit more on the activities and how the group was doing. For some days there is a lot, for others not so much, due to us simply getting caught up in other activities, adventures and having a good time with our new international friends.
Our program on board sail training ship Morgenster was everything we hoped for. There was sailing, some mild seasickness, exploring of the beautiful Norwegian coast, plastic research, brainstorm sessions, intercultural games, sports, challenges, overcoming fears, improving English and general communication, learning about sustainability and much, much more. We hope that the following pages give an insight in all of that.
Thursday 11-07
TRAINEE SOFIE
On the 11th of July, young people from five different countries were travelling to Elverum by plane, boat, train, bus and by car. Nienke was picking of our luggage on the train station, and we could walk in the beautiful weather to the folkhighschool.
Amalie and I arrived at the train station right before 16:00 and we met Iris, Eric, Ian and Ella. Since we are former students of Elverum FHS (EFHS), we got to guide the group around.
They put a lot of pressure on me by giving me the master key, but I will say that I mastered the task quite well.
Friday 12-07
TRAINEE ELVIIRA
The first full day in Elverum started with a breakfast and after breakfast Roos (our By The Ocean We Unite plastic research scientist person) gave us the task to check how much plastic we had in our toiletry bags. My list of plastic was embarrassingly long. We also played some introduction games and got to know each other better.
The most interesting part of the day for me was the trip to the beach. On the way we got to know people we didn't know yet (the mentors gave the trainees topics to talk about: What do you do at home? What are you most looking forward to? What are your goals and fears for this trip?).
On the beach we had an interesting conversation about sustainability and what it is like in different countries. I learned what it is like in different countries. I learned a lot of new things. It is also really good to have a marine biologist with us who actually knows about this topic so we can ask questions. She's also super fun!! After discussion there was some swimming and a small beach clean-up.
In the evening we did our country presentations where others presented stereotypes about a country and they had to confirm or deny them. I learned some interesting facts about everyone, especially the Italians… All in all it was a super fun and relaxed day. All the people are so nice.
COUNTRY PRESENTATIONS: STEREOTYPES, MENTOR MERI
On Friday evening, we all gathered together and learned about each other's cultures. One by one, a group of each nationality took the stage and the rest of us asked about their country, culture and customs. For example, do Italians always wave their hands when they are speaking? The answer was no, accommodated with a laugh and a wave of hands. Some were wondering if Finnish people ever see the sun and are Hungarians always hungry. Some stereotypes were confirmed, others denied, and we all learned something new about the nationalities on board.
The stereotypes-game really sparked interest in many of the trainees and it carried out after the game. Many conversations about cultures have kept going all night and some of the trainees are eagerly learning new languages from their new friends!
Saturday 13-07
TRAINEE
This day was our last day at the Folkhogskule. After lunch, a big bus came to pick us up, because we had to go to Fredrikstad, the harbour city where the Morgenster was docked. The bus trip was pretty fun. Especially the Italians in the back that were talking very high-praising about their cuisine were very enjoyable.
Then we stopped near the harbour. We got our luggage out and we went to the docks. We were all really happy to have finally arrived.
On board of the Morgenster we met the crew, a group of very kind and enthusiastic people from all around Europe. We were shown our cabins and we had a great dinner with the entire group on the deck of the ship. In the evening we drank on board and music was being played as well. It was awesome. I went into the city with a group. To do that we took a ferry to the other side of the harbour. There, we visited Statsraad Lemkuhl, a really cool and big tall ship from Bergen. I ate a waffle with sausage on the deck. That's cool, right?
Later, me, Roos, Aku, Emil and Elviira went to for a walk around and talked to some Norwegian strangers. They were funny guys.
Later in the evening there were fireworks. It was a nice end of a good day.
MENTOR MERI
We had an early morning today. I and the other mentors stayed up for a bit last night, making plans on who is sleeping where once we get to the ship and other arrangements and last-minute plans for the time on board. We had a nice breakfast, after which we started cleaning up. It's awesome to see how good of a team we are already. We are super excited to spend the next two weeks together!
After cleaning up we had lunch outside in the sun while we waited for the bus to arrive and take us to Fredrikstad. The weather was gorgeous, and we had quite a trip ahead of us.
We got to Fredrikstad and the spirits were sky-high! We were all so excited to get on board. The crew of Morgenster, as always, was welcoming us on board with such love and smiling faces. Feels like home, Morgenster.
We assigned bunks to everyone and started settling in; we took care of some mentor stuff with the captain. Everyone is so happy to be on board, warms our hearts to see everyone excited and smiling, admiring the ship and wondering which rope does what. After dinner on deck, we hung out, played music and just chilled. Some of the trainees and I visited Statsraad Lehmkuhl and roamed around the town before heading back to the ship to see the fireworks. It was beautiful. I'm so excited for the journey!
Sunday 14-07
This morning the trainees got a climbing instruction and safety drill. The rest of the morning we spent preparing for departure. In the afternoon we left the harbour and the sea watches started. First days are always very busy with loads of things to learn, which is why writing the logbook unfortunately did not happen today.
Monday 15-07
TRAINEE FROM 8-12 WATCH
After a delicious breakfast we headed on deck. Some of us helped with dishes and others went straight outside to enjoy sailing. Some of us got to climb up the mast to tie up some sails. It was exciting, first time in the mast when we were out at sea. Some of us climbed to the mast to admire the view. We collected water samples for studying and put up some sails. The weather was good. Cloudy, but still warm. At the end of the watch we helped with lunch. The watch ended with a good lunch.
MENTOR MERI
The watches have started. The first watches are always just about getting to know the ship, and the trainees are eager to learn. Some of them are drafting a map about all the ropes and sails, which looks fun! Some of the trainees are very comfortable with climbing the masts and volunteer with every chance they get, and some are still a bit frightened but they're getting there! It makes me so proud, that even if they're scared, they go a bit higher every time. By the time we get to Bergen, I bet all of them have gotten to the top.
We started a sort of an achievement board, to which everyone can write on post-it notes what they want to achieve, and what they fear and once they've achieved, learned, or won their fear, they can move the post-it to "done". There are already achievements done, and it makes me so happy to see them moving their post-its to that slot. I hope we can win all of them!
Tuesday 16-07
TRAINEE AMALIE
My day started at 3:30 this morning. My watch and I took over for the white watch around 4 o'clock: on this shift we turned off the engines and started to sail. I haven't learned the sailing terminology yet, so I can't tell you in detail what we did. We sailed for a while and everything seemed great, but we could've done with a little more wind. I got to sail the boat for a little bit, but I got seasick so I had to stop.
After our shift was done, we went and ate breakfast. The breakfast was lovely, but I wasn't in the mood for food at this time. After breakfast we stayed seated and just chatted, and after a while I brought my sketching book and started drawing on request. Before we knew it three hours went past, and we realised maybe we should stretch our legs. We had a lot of fun drawing.
During happy hour (boat washing) a lot of us got really seasick because the waves were SO big. The only thing we could do was to sit still somewhere and feel the wind on our faces. After what felt like forever, we decided to find a place where we could anchor down (I don't know if that's the right term). We found this beautiful little spot between some islands in Skottevik. We stopped here for some dinner on deck, bathing, and exploring on one of the islands. It was very nice and quiet there and some locals came out to wave and look at our boat. In the evening we had some sing-along and then started sailing again around 23:00 (I wouldn't know exactly, because I was sleeping).
TRAINEE
The day started with a gentle waking up at seven in the morning and immediately some of our brave sailors took over the toilets to let out the bad feeling from sleeping the whole night and not enjoying the sailing on deck. After a quick breakfast, actual sailing began. The first job was to turn the yards to the other side in order to catch the wind. When the sails were set and the new course was given, we were given a lesson about sails and lines. Also, all morning fishing lines were in the water and the catch of 14 fish indicated that too. The rest of the watch passed by while taking off the sails. (All crew members survived to the end of the watch.)
MENTOR MERI
It was a great day of sailing! The weather treated us nicely and fishing plastic was a success. We moored next to a small village, with only about twenty people living there. The captain let us swim and jump to the sea from the ship and it was a so much fun. We also went to shore, and probably met most of the 20 locals. They were all very nice and pointed us to a small lake nearby. We ended up not finding it, but we did find some horses that we befriended, and roamed around the woods. For us northern folk it was just another forest, but especially the Italians were quite impressed about the scenery. It's amazing to see how the group has grown together, and how much they ask questions and show interest in both sailing, sustainability and each other. We happily answer all of their questions. Some really interesting conversations!
Once we got back to the ship, dinner was ready, and we pulled out the old guitar and taught the trainees a few shanties. We had a really good time laughing and hanging out. It was a successful day, even with some of the trainees being sea-sick in the morning. Overall, everyone seems super excited for what's to come. We're hoisting at 23 and get back to sailing. Can't wait for the night watch and a hot cup of tea, looking out at the mountains and the never-ending stars of the pitch-black night. I just love life right now.
Ps. Went to night watch, we hoisted the anchor and I went to the anchor room to work the chain. Note to self: if someone offers you coveralls, you should probably say yes, since you will get dirty. I don't think there's a chance of saving my clothes after all of this clay. Was worth it tho!
Wednesday 17-07
MENTOR SIJA
Yesterday evening we hoisted the anchor and left. The watches started at 11. This morning the waves grew higher and the wind left us a bit, therefore more and more people were getting seasick. Even I, after standing in the kitchen for a while had to move on deck in order to get it under control.
During the blue watch we set all the sails, some people were helping, some were seasick or sleepy. Maybe we should do an energizer in the morning to wake everyone up? At the end of the watch it became clear that we would anchor again, because the wind wasn't strong, yet the waves were high. So, after lunch and happy hour (very active galley cleaning going on), we took away the last remaining sails and the white watch started furling the jibs. We arrived in a very old small town on the coast. We went ashore and walked through a beautiful forest to a beach nearby. There we did a beach clean-up and even though the beach seemed clean, we still managed to find many small pieces of plastic….
At 19.30 Viktor picked us up again with the dinghy and we all went home. At dinner we did a clearing with the entire group. Amazing to hear that almost everyone is doing very well on the ship.
At the start of our journey on the ship we hung up three posters: goals, fears and done. It is very nice to see that people are still using the posters, they are moving post its from goals to done or from fears to done. Everyone is really trying to get the most out of this journey. In the evening we hung out on deck and after a while everyone went to bed on a calm boat because we are still at anchor (so anchor watches).
Thursday 18-07
TRAINEE
At 2:00 AM Kinga and I had an anchor watch. One of my friends of the blue watch (Vilmos) joined us. We needed to look out for not moving backwards while we had a hot cup tea. After the anchor watch I slept really well.
When I woke up, I was a little bit late for breakfast. We had a great breakfast with a high range of food. After breakfast we were sailing with all the sails up. Suddenly someone shouted "WHALES"! Everybody ran to the end of the boat and we spotted seven whales swimming and playing next to the boat. We also took some nice photos and videos.
After my watch we arrived in the harbour of Egersund. We went into town and we made some nice pictures again (we had a lot of fun). In the evening we played some funny games. After an active day we went to sleep.
MENTOR SIJA
I woke up at 6 o'clock for my anchor watch with Iris and Carlotta. During this watch we talked and sat in the coffee shop. After my anchor watch I stayed up and read a bit before everyone woke up. At 8 everyone was woken up by Dirk (crew) through the speakers and breakfast was being prepared. In the morning everyone had to help with doing dishes and preparing the ship for departure; nets on the side of the ship, heaving the anchor etc.
The morning was very calm, plastic fishing was being done, the watch was busy with the sails and some were sitting inside working on how we, the ship, the research or companies can become more sustainable. Then in the afternoon we had lunch, then happy hour and then we set all the sails with most of the trainees.
Around 9 we sailed into Eigersund. In the evening everyone was on the ship, making music, playing games, drawing and talking.
Friday July 19
TRAINEE
Wakey wakey Morgenster! It's eight o'clock, it's breakfast time, the sun is shining and the fish are jumping!
After breakfast we did a little presentation about sustainability in our own country. And we learned what Hungary looks like.
Then we had lunch, and we waited for the bus which drove us on a little trip through a WWII bunker.
During the waiting we played some fun games and on the bus we sang some Italian songs about fire fighters. Later, when we arrived back at the Morgenster, we played some card games and we sang some songs before going to sleep.
MENTOR SIJA
This morning started slowly with breakfast at 8.30, since we wouldn't leave the harbour today. Therefore, together with the mentors we organized the country presentations this morning. All countries already talked a lot about their culture and their national anthems in Elverum, which is why we gave them a bit of a different task and asked to talk more about how each country deals with sustainability issues.
After breakfast clean up everyone sat in the saloon, busily brainstorming. In about an hour everyone managed to make a list or poster of all things they found important and one by one started giving their presentations. It was really great to see how all groups were telling different things and also how different the countries are.
After the country presentations we had lunch and after this we took a bus with the entire group towards Sirevaog, where the ship would be in the afternoon. A guide took us on a hike along WWII bunkers near the coast. It was really interesting to learn a bit about the about the history of the coast and country we are visiting with this project. And of course, the scenery was pretty.
We had dinner and another evening of music, games and cosy things in the saloon.
MENTOR MERI
Our achievement board looks amazing. A lot of things have been accomplished and fears have been kicked out the window: climbing the rig, learning knots, learning some words in new languages, making friends, becoming seasick and not becoming seasick, steering the ship, pulling ropes… You name it. And isn't sailing all about that, learning something new? I think so.
The group is truly united. We all know each other, at least a little bit. I think there's also some friends for life here.  It's amazing to see how everyone's developed during the past two weeks.
We started writing letters to ourselves, as well as each other. We'll get them in about six months. Sija and I told the trainees to add some goals and hopes they wish to become true in that time. We hope it'll push them to reach those goals.
We also made up some shanties.
Saturday July 20 & Sunday July 21
Beautiful days out sailing. Climbing, watches, getting tired but not grumpy, learning, having fun, two manta trawls, some very solid rounds of 'Who am I?', loads of card games, practicing our shanties. Sadly, the trainee logbook entries today happened on a separate piece of paper that went missing…
Monday July 22
MENTOR MERI
Bergen!  Also, our last day. Due to all the excitement of arriving in the city of Bergen and the sentiment of having to leave our newfound friends behind tomorrow, no writing happened today. To recap our day: FUN!
We played some sports against crew of another ship, dressed up all funny in sports shirts from all our different countries. We also performed our shanties for the locals, went exploring through the city, talked to locals about our project and the research we did, and generally just had a really nice time celebrating the brilliant experience we had these past two weeks.
I'm feeling a bit sad that we're going home tomorrow, but I'm so happy about how everything went. Unfortunately I had to leave the ship for a little bit due to illness, but it's been very nice to be back for the last day. The group had the option to go out (as long as they stuck together, of course) and yes they went for a little dance. Everyone headed back to the ship way before curfew and just hung out as a group. And that, that's just such a nice indicator of how this group came together during our time on board! I'm really going to miss all of the trainees!
Wednesday 23-07
MENTOR SIJA
Today, the trainees left the ship, so the morning consisted mostly of cleaning the ship and cleaning their own cabins. Everyone first cleaned their own cabin and afterwards received a task to clean one of the common spaces. Cleaning the rooms is always a challenge, because moving around with four people at the same time in the small cabin is simply impossible. Therefore, there is some coordination and communication needed. Last chance to practice our newfound skills.
The trainees had to leave the ship around 10/11. It was strange to say goodbye. You really get to know everyone quite well after two weeks and appreciate them for who they are and what they do. Saying goodbye is always a bit emotional and it takes a while. I certainly learned a lot by being a mentor and therefore being in a different role on a ship than I usually am.
MENTOR MERI
Yesterday and the day before we wrote the letters to ourselves, as well as some notes for each other. We will receive them in about half a year from now, so that'll be a nice Christmas surprise. The trainees have been busy all morning: cleaning, packing and saying goodbyes. It always catches me off guard how emotional it is when everyone's going home. I hope to see them in future sail training projects/Youth Exchanges again and I hope they have all the success in life, as well as that they use the knowledge and skills in the future which they gained from this journey. I truly believe that we're all going home as people who are a bit better than we were before coming here.