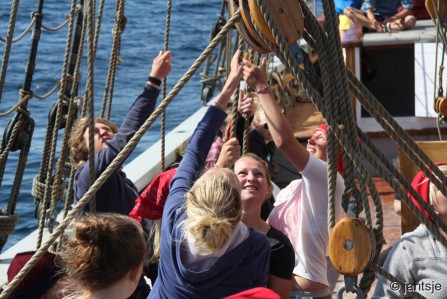 Logbook trainees Vega Gamleby 2016 Gothenburg-Blyth-Gothenburg
Part 2: 25-26 August
25- August-2016
Today we have learned what all the sails and ropes are called, and what they do. We also saw dolphins again and a whale for the first time. We are getting closer to England and we started to see more birds, it's kind of nice to see something else then water. People are starting to have to check their phone in order to know what day it is. We will go to land tomorrow and people are longing for the showers and the land. It feels like we have been out for a lot longer than we actually have.
It feels like we've all come much closer to each other over the past days. Living in such tight conditions and seeing each other on a constant basis usually tends to do so. I knew we'd eventually come closer to each other, but definitely not as quick as this. Conversations run freely, opinions are shared, and we've laughed a lot.
In terms of sailing I feel much more confident in terms of the concepts, names of sails/ropes etc. I'm sure I could lead the boat to England from here 😉
25- August-2016
Today we were all able to name every rope on the boat.
We were in the kitchen helping clean up after breakfast and did the dishes and laundry, we also practiced climbing up the lower and upper top sails in the morning and in the evening when it was very dark.
Over the past 5 days we have learned so much and we have been given more responsibilities around the boat.
It was very kind of the crew to give us the red Vega Gamleby hats as this really made us feel like part of the crew.
25- August-2016: Tilde
The 4-8 watch today was the most tiring one yet (the third one). We didn't have much to do. So we mainly repeated ropes and learned some knots. I was freezing as always but tried to stay warm by walking around. The best moment was around 5 am when we were talking about Brandon's pet bat. Nathan joined and hadn't heard the whole story so he asked "where do you buy a bat?" In his accent of course. And Brandon answered in an Irish accent as well: "You don't buy a bat, you find a broken one!" I'm laughing now just thinking about it. Also, it's called B-something, and is named after a brand that makes canned vegetables. It's very small. It is actually "broken" since it can't fly. Or maybe I should say "him" or it/him will feel insulted. I'm very tired. Soon it's 10 – fika! Yay! The only thing I want more than fika right now is a hot shower. Sorry for bad English, I'm tired.
WE SAW FAKE DOLPHINS YESTERDAY.
THEY WERE FUN TO WATCH
WOHO
26-August-2016: Jakob (Story by Jakob/ Writing by Tilde)
THE WATCH FROM HELL
As I walked out from the deck-saloon with my new brewed coffee I got hit by the hard and cold 4 am rain. Our watch group gathered up on deck by the helm.
I got assigned the wheel first. The rain was pouring down on my bare face when I was told to reassign myself to the bow spread. We were supposed to climb and fix the sails. When the safety harnesses were on, we started our journey out into the dark unknown. Three steps out, I felt like my whole existence were down into oblivion. Instead of placing my feet on the proper rope I stepped on an unfastened sheet. Milliseconds before I fell to my death under the boar I got a hold of the spread. Dangling and fearing for my life I slowly dragged myself up to safety. When we got back from the life-changing assignment it was pure chaos. People were puking and hanging on the railing for dear life. The storm was about to take us all down to Hades and a burning eternity. However, with the skillful watch team we have, we got control of the ship and conquered the storm just as it was about to devour us all.
The storm wore off and it grew into a light breeze, with the sunrise in our faces and the wind in our hair we kept sailing towards our destination.
I looked over the crew with pride as they were worn out, bloody and tired.
To end our watch, dolphins came and cheered us on. Sun, dolphins and a happy crew, not a bad way to go to bed.