Logbook trainees Vega Gamleby 2016 Gothenburg-Blyth-Gothenburg
Part 3: 27-31 August
27-August-2016: Linda
Today was one of the best days in my life. The whole crew played volleyball on the beach.
Then be mice for the crew parade and we WON! Yeah!
So now I will go to bed after a fun night on the crew party. Sleep tight.
28-August-2016: Tilde
Yesterday we walked in the crew parade. It was so much fun. We had all dressed up according to the theme "Sea mice and chefs". Sort of.
We screamed:
SAY VEGA VEGA VEGA GAMLEBY
Ge mig ett V (Give me a V)
V–
Ge mig ett E (Give me an E)
E—
Ge mig ett G (Give me an G)
G—
Ge mig ett A (Give me an A)
A—
VAD BLIR DET? (What's that?)
VEGA
E Du Go ALLA!??!
The song "Alla heter glam I Goteborg"
And A Whole Lot More.
And our acting part was that the chefs were chasing us rats/mice and we ran around trying to escape. Even the real chefs were with us, Axel and Leif. That was so much fun as well. But after two hours running around in the heat, we were all exhausted. But- we won a prize!!! At the ship we got apples and water as fika, and then it was just to shower, and get ready for the crew party.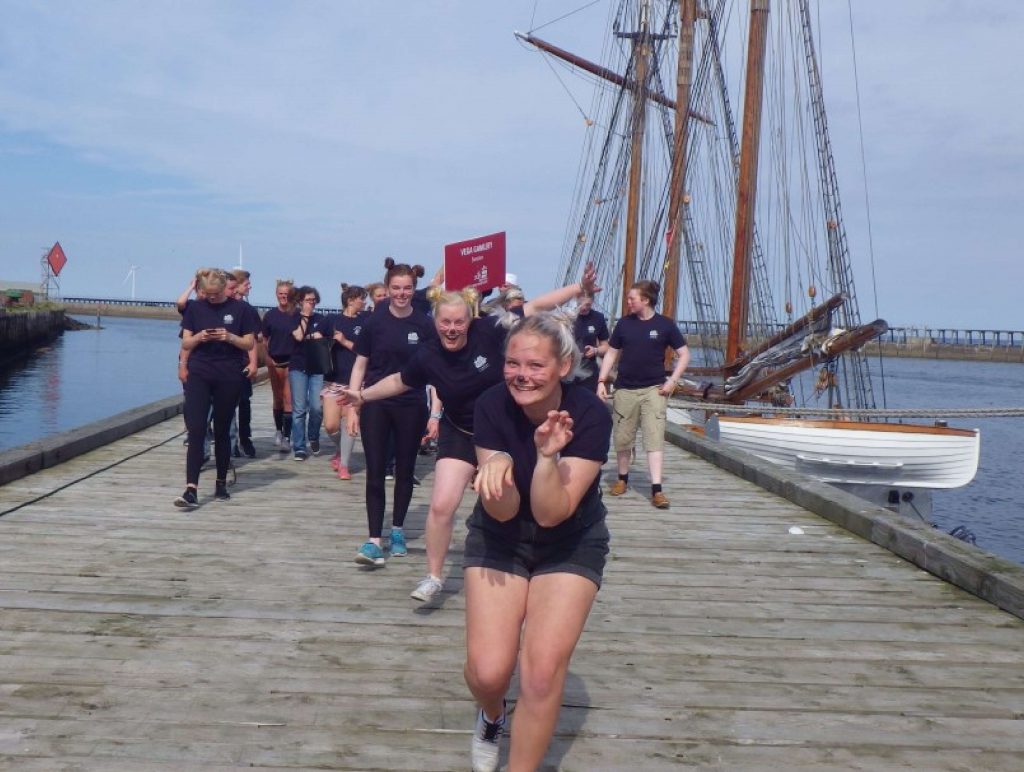 30-August-2016: Olivia
The Watch from Heaven
Now the race has started and we were all ready to win this. It began on the night watch which is for us 4 o'clock in the morning to 8 o'clock. When our watch began, there wasn't really much to do so we just talked, but on this night/ morning a surprise came in form of several thousand burning spheres which we call stars. I believe this night/morning we could see the stars so clear for the first time on this trip and it was a pleasant surprise. 6 o'clock another burning sphere came for a visit and it was the sun. This sunrise was also very beautiful.
But now for the things that really made this watch from heaven. I got to climb for the first time on Vega!!! I've climbed a lot before on T/S Gunilla so I was so excited to do it on Vega. I want to go back up again.
When we were up there in the rig we got a call that we had to prepare to jibe which we did perfectly. And the cherry on top of the cream was that we found out we were in the lead of the race. Both class B and A.
30-August-2016: Tilde
This morning I was so tired after our watch. I actually usually am, but do my best to stay awake until then – because then it's fika with something sweet. But today I followed my instinct and stayed asleep. And it turns out I have the best of friends on this boat. Kate from the 8-12 watch came to my bed and gave me one!
I went back to sleep and two hours later Olivia wake me up for lunch. IT WAS HAMBURGER!! I love hamburgers. But to be honest my dad makes the best ones. That's what will be for dinner the first night when I get home. Hopefully that won't be so soon though! It's so much fun on this ship. The stars, the blue sea, my small cosy sleeping space "Skansen", the glittering plankton, the delicious food, the exciting sailing and of course all fantastic friends. It's something special with living so extremely close together and sharing everything. The friends I've made during these weeks are for sure the thing I will miss the most when I get back home.
31-August-2016: Mollie
This is the first time I'm writing. As this is the first time I have had enough energy to stay awake and do so. I am always so tired after the watches! And of course, with my luck, it was the most uneventful watch yet. When Ira comes to you at the start and says "We don't have much to do today" you know it's going to be quiet. The hardest job everyone had on this 4-8 watch was trying to stay awake. I can sadly say, that not everyone succeed (Tilde!). I am very proud that I made it, though! Especially as I hardly made it out of bed today (If you can call skansen a bed). What is it with sleep on this ship? No matter how much you sleep, you wake up exhausted. I am sorry that I cannot make this story more exciting, but not everyone can make up stories like Jakob! I climbed up the rigging yesterday, which I never thought I would be able to do. I am very clumsy and didn't trust myself at the start, but Stine was great and helped me a lot! As I reached the first yard, which was much higher than I had planned, I looked down and I know I had made it. Sometimes you just have to push yourself and do it, before you realise that you can make it. I didn't fall and I didn't give up either, which is the most important thing! So the next time I think I can't do something, I will think of Vega and just go for it! That's enough from me then, before you fall asleep reading this!
Rigging Thoughts: Per & Dalmar
I was feeling like a flag as the wind tossed me from side to side.
I viciously clenched onto the upper-top sail yard.
Underneath me I saw my ant-like smiling peers.
And above me, the most spectacular theatrical performance Mother Nature had to offer.
As it does every night the ocean managed to drench the sun in its abyss.
Melancholy came over me as the world once again, went dark.