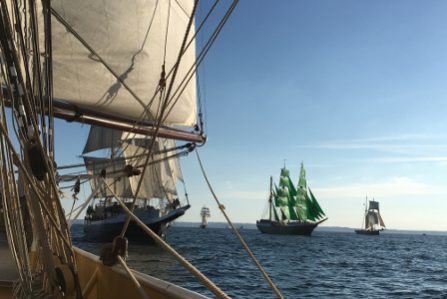 New dates for the Tall Ships Races 2020 – postponed to 2021
Due to the COVID-19 pandemic The Tall Ships Races 2020 have been postponed by the organiser – Sail Training International.
Instead of 2020, the Races will take place in August and September 2021 under a new name: The Tall Ships Races Magellan-Elcano 500 Series 2021 (after the Baltic event, which is still scheduled for July and August 2021).
The fleet will sail from Dunkirk (France) across the Bay of Biscay to A Coruña (Spain), then on to Lisbon (Portugal) before finally finishing in Cádiz (Spain).
The dates of the Baltic Tall Ships Races host port events are:
Klaipeda, Lithuania: 27-30 June 2021
Turku, Finland: 5-8 July 2021
Tallinn, Estonia: 15-18 July 2021
Mariehamn, Åland: 22-25 July 2021
Szczecin, Poland: 31 July – 3 Aug 2021
The dates of The Tall Ships Races Magellan-Elcano 500 Series 2021 are:

Dunkirk: 12-15 August 2021
A Coruña: 26-29 August 2021
Lisbon: 2-5 September 2021
Cádiz: 9-12 September 2021
SAIL Amsterdam:
The 10th SAIL Amsterdam event has been cancelled. The next one will take place on 20-24 August 2025. Come back soon for more information.