Expedition
Sure, sailing ocean giants as a true Windseeker is the real thing. But each ship needs its port. And you may want to shake off your sea legs every now and then. So why not combine your nautical adventure with one of our shore expeditions!
Various ships in the Windseeker fleet offer numerous sightseeing tours ashore. Just check out the Journeys with the expedition icon, and you'll be on your way to explore strange lands!
Need more information? Just drop us a line at info@windseeker.org.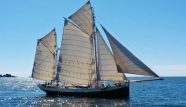 From Hawaii to Alaska over the Pacific Ocean. Starting with a tropical vibe, this 1-month voyage will head to a place that sp...
Set sail between Tahiti and Hawaii. Explore the Pacific Islands with the Tecla crew. This month-long voyage will give you eno...